ELTA Systems Ltd is a group and wholly-owned subsidiary of Israel Aerospace Industries Ltd ("IAI"), Israel's leading Defense Company and a global leader in the defense and aerospace sectors.
Since the founding of the company over five decades ago, ELTA has achieved a leading position in the local and international markets as a radar and electronics systems house and a systems integrator.
ELTA develops technologically advanced solutions for defense, paramilitary, government and law enforcement customers as well as for the civilian market.
The Cyber Division is IAI's center of excellence for Cyber Solutions addressing "national grade" challenges faced by nation-states, critical infrastructures, law enforcement, and defense forces. The division has developed unique solutions for cyber-defense, protection, monitoring, prediction, identification, intelligence and accessibility.

Solutions include national-grade Cyber Early Warning centers, Cybersecurity for mission-critical systems, aviation and maritime cybersecurity, cyber intelligence, cellular search and rescue systems, and critical cyber protection solutions.
TAME™ Range - Turnkey Cyber Competency Center
TAME™ Range presents a realistic cyber warfare training environment by raising the awareness and readiness of cyber defenders at all experience levels, using recently discovered threats.
Regardless of their level, students are given the opportunity to immerse themselves in the full breadth of TAME™ Range body of cyber knowledge including training, research and imulation of cyber scenarios for various computing components such as IT topologies, OT environments, IoT environments, and more.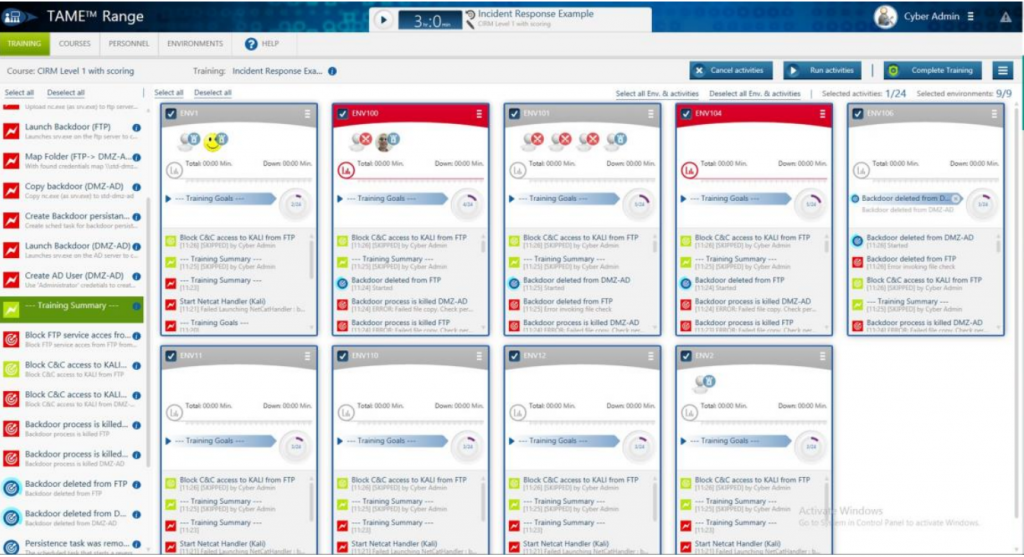 TAME™ Range is a fully open platform, customers can customize or create their own content at any level for any module with no need for professional services
TAME™ Range has the most advanced and complicated attack scenarios and trainings
TAME™ Range is a fully automated system including automatic scoring system. The automated scoring system can test more than a dozen different indicators to measure students' performance. Customers can create their own indicators or use and customize the default indicators for their own trainings
TAME™ Range works as private /on premise cloud, meaning it is accessible for students and trainers from remote and different locations in parallel
TAME™ Range is a multiclass platform, meaning you can run multiple and different trainings to multiple classes from different locations at the same time on a single TAME Range system
TAME™ Range has an automated "training environment management module". With this module Customers can easily deploy new environments, revert the training environment to a clean state or create a new state for the training environment in a single click
TAME™ Range reduces the BOM costs to customers by using "Link clones" for training environments to save more than 50% storage space. In addition, open source products can be used saving Third party licensing
Want to become a world wide cyber prefessional? leave your info below
Please include Country Area Code
"We examined carefully in Israel and abroad… After a long benchmark we decided to go with IAI for its' network environment flexibility & unique developed learning engine"
"Training has contributed to enrich the soldiers' knowledge and to improve their qualification regarding the treatment of cyber events including event detection, analysis, investigation and purification of the network"
"TAME™ Range certainly meets its lofty reputation"
"In addition, training focused us, commanders, where required improvement in management and professional cyber defenses of our unit"
"evaluated all of the above factors…use TAME™ Range as cyber training supplier"
"I'm trying to map out all the possibilities for my personal development, as this was one of the best courses I've attended so far"
"These courses have significantly contributed to the skills, readiness and professionalism of our staff"